Thankfully, Fadra is giving prompts this year for Stream of Consciousness Sunday. You don't have to use them but today I woke up and was wondering what in the world I would write about.
Today's prompt is something you unexpectedly had a hard time saying goodbye to.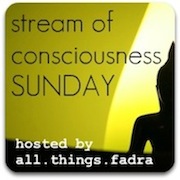 This seems like it would be very obvious what I would choose but I'm going to NOT choose saying goodbye to Charlie and tell you about something else I had a hard time saying goodbye to.
Swaddling Henry.
I swaddled Henry until he was almost a year old. I'll pat myself on the back and tell you that I'm the best swaddled outside of a hospital nursery. Need to learn? I'll teach you. And I won't even break your baby's arms!
Henry loved it so so much. It calmed him immediately and put him right to sleep. After he was about 9 months old, he started putting his arms down by his side when he wanted to go to sleep. He was asking to be swaddled.
The bad part about it was that I never put him down to fall asleep. I couldn't. I would swaddle him and hold him until he fell asleep and then place him in his crib. I did this for naps and at bedtime. It was an obsession.
When he was about 11 months old, Jason told me I had to stop. I had to stop swaddling him and stop holding him to fall asleep.
I cried.
I didn't want to give it up.
I took the next few weeks to work on how I could give it up. I stopped the swaddling first and it went well. Then one day at nap time, I put him in his bed and left. And you know what? He went right to sleep.
I realized that it was me. It was me holding on to it in order to squeeze extra minutes out of snuggle time. I wish I could turn back time and hold Charlie more or not put him in his bassinet to nap, so I went to extremes with Henry.
It was hard to give up swaddling and cuddling. Possibly the hardest thing ever.
Well, next to the biggest goodbye. Obviously.
******************************
This was my 5 minute Stream of Consciousness Sunday post. It's five minutes of your time and a brain dump. Want to try it? Here are the rules…
Set a timer and write for 5 minutes.
Write an intro to the post if you want but don't edit the post. No proofreading or spellchecking. This is writing in the raw.
Publish it somewhere. Anywhere. The back door to your blog if you want. But make it accessible.
Add the Stream of Consciousness Sunday badge to your post. (on Fadra's sidebar)
Link up your post on her post.
Visit your fellow bloggers and show some love.