Today's I'm hooking up with my friend Fadra for Stream of Consciousness Sunday. I haven't done it in a few weeks and I have missed it.
The prompt for today is Change.
How do you feel about change? Do you like routine and predictability? Does it bring you comfort or discontent? Talk about it general or tell us a specific story about a big change in your life and how you feel about it.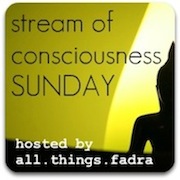 I love change! Seriously, I do.
But my God, how I HATE change.
Confused much, Jana? Yes. I do believe I am.
We're in a state of change around here. We're feeling out different things but they're all things that will involve change. That's about all I can say about it right now and that's all you really need to know. (wink) (no, I'm not pregnant) (no, we're not getting a divorce) (no, Henry's not marrying any of his girls yet)
I love love LOVE the logistics of change, especially when it can involve lists, color coded systems, timelines and budgets. I love thinking about things that are new and interesting. The idea of a clean slate is sometimes more than my mind can handle. The possibilities are endless.
But the actual act of CHANGING? Scares the shit out of me. I'm usually very calm and collected and take it all in stride, but honestly? On the inside I'm a bundle of nerves. We are all three creatures of habit and like for things to be "just so." The transition is usually tough, whether it's moving or deciding to eat supper at 6 instead of 8.
The change happens and then I'm totally in love with it. I'm ALWAYS pleased with the way things go.
**************************
This was my 5 minute Stream of Consciousness Sunday post. It's five minutes of your time and a brain dump. Want to try it? Here are the rules…
Set a timer and write for 5 minutes.
Write an intro to the post if you want but don't edit the post. No proofreading or spellchecking. This is writing in the raw.
Publish it somewhere. Anywhere. The back door to your blog if you want. But make it accessible.
Add the Stream of Consciousness Sunday badge to your post. (On Fadra's sidebar)
Link up your post below.
Visit your fellow bloggers and show some love.
Now…
1. Grab the button. (On Fadra's sidebar)
2. Write your post.
3. Link up here.