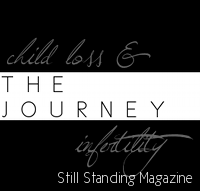 I can't' tell you the exact moment I knew we would be ok, but it happened.
I can't remember if it was a year later, three years later or even last month.
It just happened.
One day I realized that we were still standing.
Standing side by side, holding hands, always missing one tiny set of hands to grab on to.
Standing always in memory of our son who sits on our shoulders.
Standing, waiting, longing for the day that we see him again.
Standing, wondering if Henry will ever understand how special he is to us.
Standing, still standing.
After all these years, we're still standing.
************************
If you've experienced miscarriage, stillbirth, infertility, baby loss… any type of pregnancy or early childhood loss really… I ask you to visit Still Standing, a new online magazine that features columns from contributing writers and guest posters.
From their site, their mission:
In the face of loss and infertility, our mission is to show the world that we are still standing. Holding fast to resilience and hope. Our mission is to help you embrace life for everything that it is after experiencing the loss of a child or infertility.

The focus of this magazine can be broken down into three parts:

encouraging women, men and even children to embrace life
connecting hearts around the world who have similar life experiences
becoming a resource for friends, family and even medical professionals, to know how to support someone enduring child loss and/ or infertility