I'm in the car driving home from a weekend at the lake and decided to see what today's prompt on Fadra's site was. I was rather blown away when I read that this is the last Stream of Consciousness Sunday post. I may have even teared up a little.
Even though I started the very first week of the prompt, I haven't participated every week for a variety of reasons, most of them having to do with just being downright lazy! I'm going to miss the official SOC Sunday post, but I love it so much I'll keep writing this way sometimes… Raw, unedited, quick. It works for me.
Today's prompt is about reinventing yourself.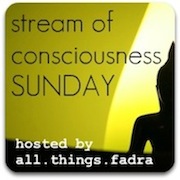 It's been 11 days since I posted here. Things have been busy. And like Fadra, I feel scattered. I feel restless. I feel like I need to, not reinvent myself, but further refine myself. Who I think I am. What I want to do. What I want this space to be.
I had a lightbulb moment at Type A Conference last weekend while having lunch with Crystal, Tanis Miller and Katherine Stone. We were talking about what types of blogs we have. Tanis said, "I'm a personal memoirist," and it hit me.
I am, too.
So in my brain, I'm working through how to truly let that become what I do here. It pretty much is already, but a little honing never hurt anybody, right?
How do you reinvent yourself when you feel stuck?
For all my SOC Sunday posts, go here.